Hi. I'm Josh. I'm a web designer living and working in Cleveland, Ohio. I design clean, modern, effective websites using HTML, CSS and jQuery. I also like to wear kilts.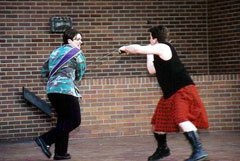 Yes, kilts. In 2003 I played a great Scottish warrior known as "the Douglas", in the Cleveland Shakespeare Festival's production of Henry IV. We thought it would be appropriate for me to wear a kilt for the role, so I bought a velcro-closure, polyester "Sport Kilt"… and I loved it! I started wearing it around the house, and eventually out in public, but lack of pockets made it impractical. Then I found the Utilikilt — a kilt with cargo pockets! I wear mine all the time. I even got married in an authentic Scottish kilt, in my wife's family tartan. It cost more than her dress.
The short version? Hire me, and not only will you be getting a talented designer, you'll be getting a fashionable one.
About Me
Current position: Senior Designer at Aztek.
Skills: Adobe CS5 (Dreamweaver, Photoshop, Illustrator, Flash, Premiere, After Effects). HTML/CSS/jQuery ninja. 6 years front-end development in a .NET environment. Familiar with all aspects of project management, from planning to development to testing to client communication. Download my résumé
Loves: Beer (Got Pike XXXXX Stout where you live? You're my new best friend.) The Princess Bride. 80's hair metal. Zombies. Joss Whedon. Politics. Macs and PCs.
Give or Take: Baseball. AC/DC. Winter cold and summer heat. Chuck Norris (Bruce Campbell is my guy.) Driving.
Hates: Zombies. Politics. Metallica (Load to St. Anger). Internet Explorer.